It has also reintroduced the Zimbabwe dollar, which was abandoned because of hyperinflation in 2009 when the country mainly adopted the US dollar and the South African rand.
The move has shocked Zimbabweans, who have little faith in local currency – the exchange rate when the Zimbabwe dollar was scrapped was Z$35 quadrillion to $1.
The economy is a mess. Nearly everything is imported and there is a shortage of physical cash. The cost of living is very expensive. Unemployment is widespread.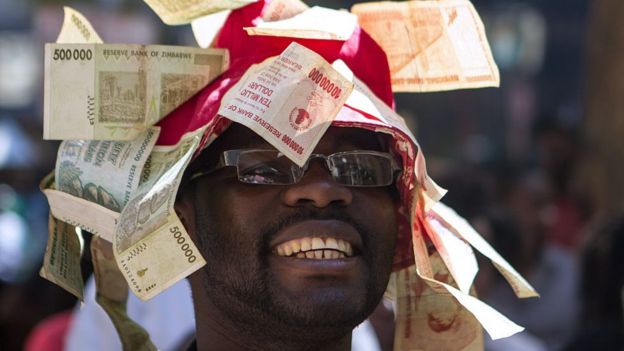 Various things have been tried to solve the problem, including the introduction in 2016 of bond notes, a parallel currency that was only accepted in Zimbabwe.
It was officially pegged to the US dollar but in reality was worth much less – so a thriving black market developed and Zimbabwe has become a cashless society, relying on card-based transactions or trading with mobile money.
In February, bond notes and electronic cash were re-branded RTGS dollars and allowed to float to try and crush the black market.
However, workers, who used to get their salaries paid in US dollars, have found that their salaries in RTGS dollars are not able to keep up with inflation – now running at 100%.
People were often expected to pay for goods in shops and services, like doctors' fees, in US dollars.
President Emmerson Mnangagwa said the ban was an "important step in restoring normalcy to our economy".
"While the multi-currency regime helped stabilize the economy, it did not give us control of monetary policy and left us at the mercy of US dollar pricing which has been a root cause of inflation," he added.
The authorities also say because the US dollar is so strong, producing goods locally is expensive which is why businesses prefer to import goods.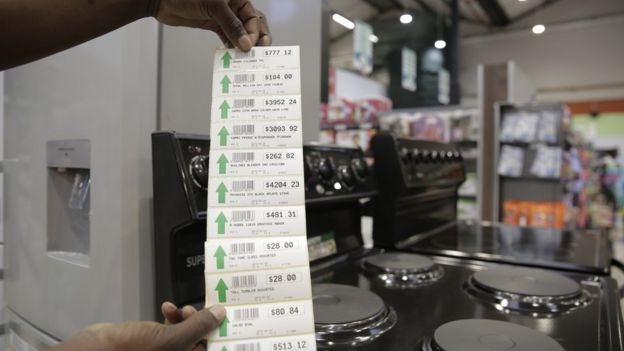 Most people, who associate the Zimbabwe dollar with food shortages and runaway inflation, have complained about the lack of warning. The RTGS officially became the Zimbabwe dollar on Monday, the only legal tender.
"We should have our own currency. But they shouldn't have abolished it as if they were swatting a fly. They should have given us notice," one man told the BBC.
Supermarkets and those in the formal sector responded a day after the announcement by issuing new prices in Zimbabwean dollars – but they were beyond the means of many.
A first-time doctor's consultation is now Z$1,800 – more than a teacher or nurse earns in a month.
Informal traders, who dominate the economy and need US dollars for imports, have vowed to defy the directive.
A street vendor in the capital, Harare, told the BBC: "How is it possible that the US dollar is no longer accepted? It won't work. We actually want greater use of it, so that as street vendors we can have them. Scrap the bond note instead."
Opposition Movement for Democratic Change (MDC) lawmaker David Coltart called the move "sheer madness".
"The market has been re-dollar rising because of a lack of confidence in the RTGS dollar. You can't force people to love a currency… This will exacerbate the chaos," he said on Twitter.
The trade unions have threatened "mass action" if the policy is not reversed.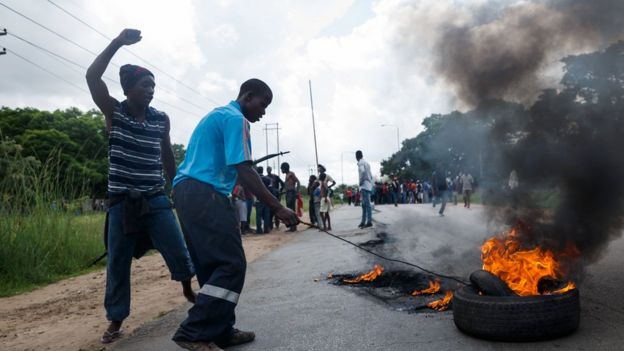 The Zimbabwe Congress of Trade Unions (ZCTU) wants workers to be paid in US dollars again.
In January, it led nationwide protests against a 150% fuel price increase, triggering a violent crackdown by the army and police that rights groups say left at least 12 people dead.
On the streets of the capital, black market traders are still exchanging and accepting US dollars.
The value on the black market has remained unchanged – one US dollar is worth 11 Zimbabwe dollars, compared with the official rate of 6.2.
Ultimately Zimbabweans have proved good at adapting over the years to one economic crisis after another.
1,492 total views, 3 views today